IN THE EVENT OF AN EMERGENCY, PLEASE CALL 9-1-1
Dufur maintains an all-volunteer fire and ambulance department. Training is available for committed volunteers. Please contact Dufur City Hall if you are interested in serving.
Dufur Volunteer Fire and Ambulance also offers annual membership. Even with medical insurance, ambulance rides are rarely covered in full by Medicare or private insurance companies. With a $45 Dufur Membership, you don't need to worry about any unpaid balance. The benefits extend beyond Dufur to 50 other regions throughout Oregon.
Click here for a membership form or pick one up at Dufur City Hall. Please make checks out to Dufur Volunteer Ambulance.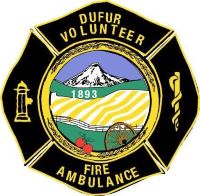 Contact: dufurfire@ortelco.net
Dufur Fire Chief: John Keyser Jr.
Assistant Fire Chief: Brian Kittelson
EMS Director: Sara Smith

OTHER EMERGENCY SERVICES
Law Enforcement:
Wasco County Sheriff:
Call for animal control
(541) 506-2580
511 Washington St. #102
The Dalles, Oregon 97058
sheriff@co.wasco.or.us
Oregon State Police:
(541) 296-9646
3313 Bret Clodfelter Way
The Dalles, Oregon 97058
Les.Kipper@state.or.us